ServeAces Mini - Tennis Bar League
Lake Norman Tennis Association
ServeAces Mini-Tennis Bar League
ServeAces (Cervezas, get it?) is the very first mini – tennis bar league offered in NC! We bring tennis to you at the bar, so you can play with your friends (even those new to tennis), in a super – fun environment. You can form a team or join one — it's up to you. Once the season starts, all you have to do is show up, set up & drink up! All of the equipment is provided and on – site, ready to use.
Upcoming Tournament!
Looking for some fun exercise before watching football games? Then sign up for our one-day ServeAces Tournament on Sunday, Nov 13, 2022 at Lost Worlds Brewing in Cornelius. The tourney is 11:00 a.m. – 1:00 p.m. so you can play and get on with your day!
ServeAces/D9 Brewing Indoor League
What could be better than playing Bar League tennis indoors?! D9 Brewing will be hosting an in-house league in November & December. Matches will be played every other week on Thursday nights beginning Nov 3 and ending Dec 15 with a play-off round. If you don't have a team, we can help place you. Space is limited to 4 teams, so hurry to sign up here.
Summer, 2023 Registration will open in early spring.
In the meantime, stay current on all the latest ServeAces news by hitting the "Subscribe to our Newsletter" button at the bottom our home page. 
Sponsorship
LNTA couldn't do this without our awesome sponsors! Sponsorship is simple. All you need is enough room to set up a mini-tennis court in a safe location in your parking lot (roughly 5 parking spaces), and a $150 sponsorship fee for one division/one season, $250 for both social and advanced leagues during the spring season, or $300 to be a sponsor for all options (spring social, spring advanced and summer social seasons). Contact Amy Brandon to get started.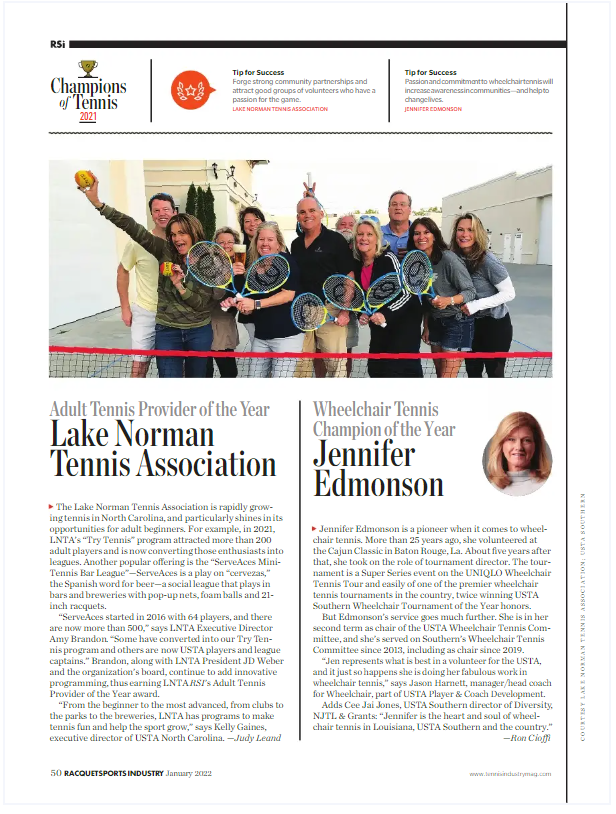 Racquet Sports Industry Magazine has recognized LNTA as the Adult Tennis Provider of the Year, featuring the organization in its January 2022 edition. LNTA's Try Tennis and ServeAces programs are credited for growing the game of tennis and introducing more players to the sport of tennis. Read the full article on page 23 here.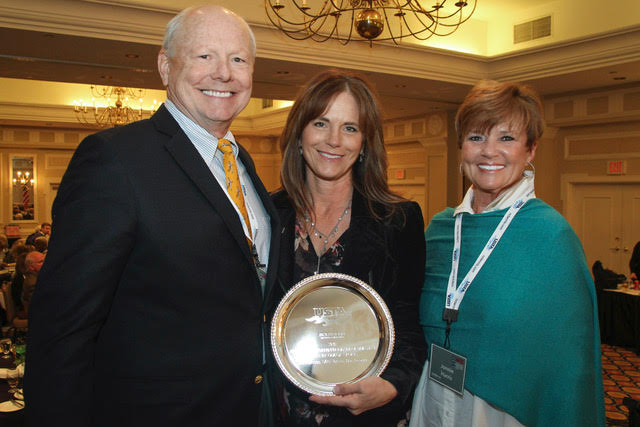 Congratulations to Amy Brandon, ServeAces Mini-Tennis Bar League Coordinator, for winning the 2016 USTA Southern & NC Tennis Event of the Year!