ServeAces Mini - Tennis Brewery League
Lake Norman Tennis Association
ServeAces Mini-Tennis Brewery League
ServeAces (Cervezas, get it?) is a mini – tennis brewery league! We bring tennis to you at your favorite breweries & taphouses, so you can play with your friends (even those new to tennis), in a fun, relaxed environment. Once the season starts, all you have to do is show up, set up & drink up! All of the equipment is provided and on – site, ready to use.
Thursday Night Social League
Absolutely NO TENNIS EXPERIENCE NECESSARY. ServeAces Social League is designed for players who've never held a racket, to players who are currently playing tennis! It's a great way for both to play together!
Teams are usually comprised of 10 – 15 players (no roster limits) with each team requiring new-to-tennis players (newbies). A "new-to-tennis" player must be just that…new to tennis. (No prior experience, or USTA rating no higher than a 2.5.) Teams will play home & away matches (doubles) each week on Thursday nights at 6:30 p.m. A newbie MUST be playing every point. This is a social league, so it's meant to be fun & easy for anyone to play regardless of tennis experience. If you're looking for a more competitive experience, we offer the Monday night Growler league. Same fun rules & format but no newbie rules are in effect.
Monday Night Growler League (Experienced Players)
ServeAces Growler League on Monday nights is designed for the more experienced ServeAces player and tennis players looking for a more competitive experience than our Thursday night Social League.
Teams will play home & away matches (doubles) each week on Monday nights at 6:30 p.m. Unlike our Thursday night Social League, there are no newbie rules in effect in this league, so any level of player can play at any time. If you're looking for a league experience geared toward the newer or more social player, please check out our Thursday night Social League. You can also play both!
Sponsorship
LNTA couldn't do this without our awesome sponsors! Sponsorship is simple. All you need is enough room to set up a mini-tennis court in a safe location in your parking lot (roughly 5 parking spaces), and a $150 sponsorship fee for one division/one season, $250 for both social and advanced leagues during the spring season, or $300 to be a sponsor for all options (spring social, spring advanced and summer social seasons). Contact Amy Brandon to get started.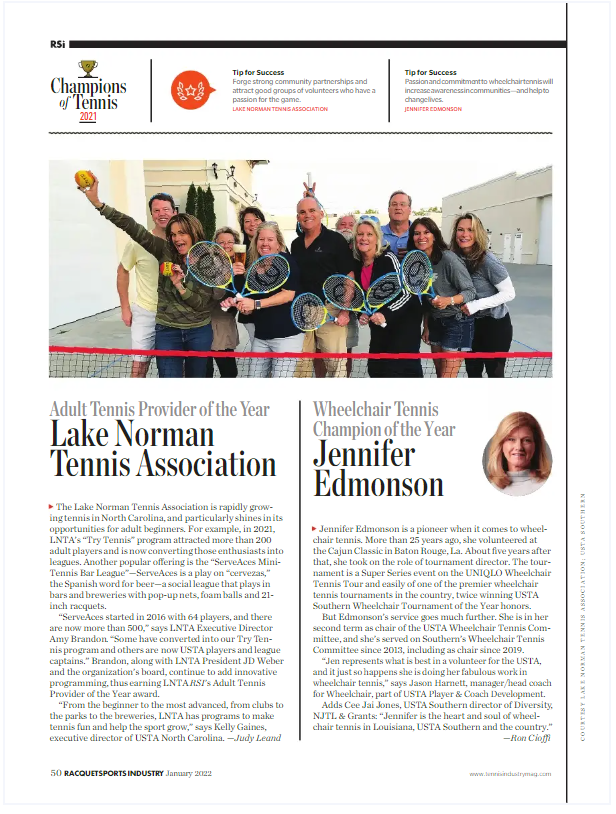 Racquet Sports Industry Magazine has recognized LNTA as the Adult Tennis Provider of the Year, featuring the organization in its January 2022 edition. LNTA's Try Tennis and ServeAces programs are credited for growing the game of tennis and introducing more players to the sport of tennis. Read the full article on page 23 here.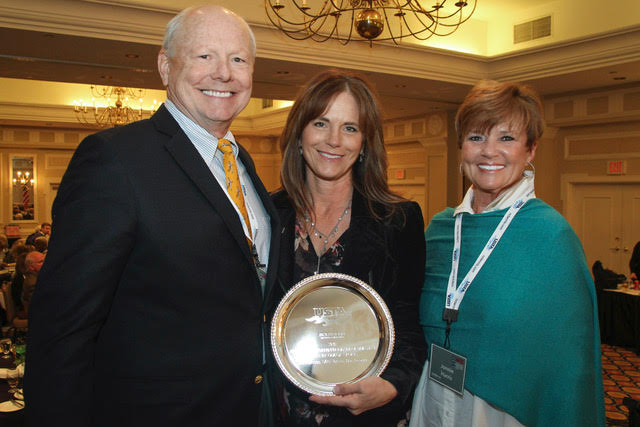 ServeAces was named the 2016 USTA Southern & NC Tennis Event of the Year!