10 And Under Tennis
Lake Norman Tennis Association
Tennis "Sized Right" for Age & Ability
USTA JTT includes 10 & Under Tennis — tennis scaled down for the physical size & capabilities of kids (ages 5 – 10). Modifications in court size & equipment help your child develop better technical & tactical skills. More importantly, kids can start having fun right away!
Young Player – Friendly Modifications
• Balls are low – compression, giving young players extra time to react & hit the ball.
• Racquets are sized for small hands, making them easier to grip & swing.
• Court dimensions are smaller, so players can experience match play sooner.
Free Junior Membership
In order to play on a Junior Team Tennis team, a player must first have a Junior USTA Membership. This is a free membership and cannot be a part of a Family Membership. Get your child's FREE Junior USTA membership here.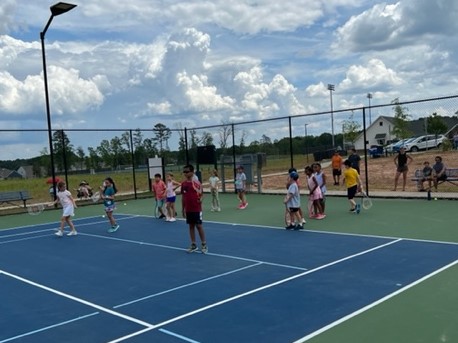 USTA's Net Generation
Net Generation is a new support system for the USTA's youth brand. It's designed to connect players, parents & providers (coaches, organizers, etc.) with tools to build positive programs. An important component of this system is the "Safe Play" program & background check of registered users to ensure a safe environment for all kids.
Please click here for information on Net Generation & how to complete the Safe Play program.
Tennis Equipment sized for Young Players
Consult the chart below to see how the equipment changes as the players get older.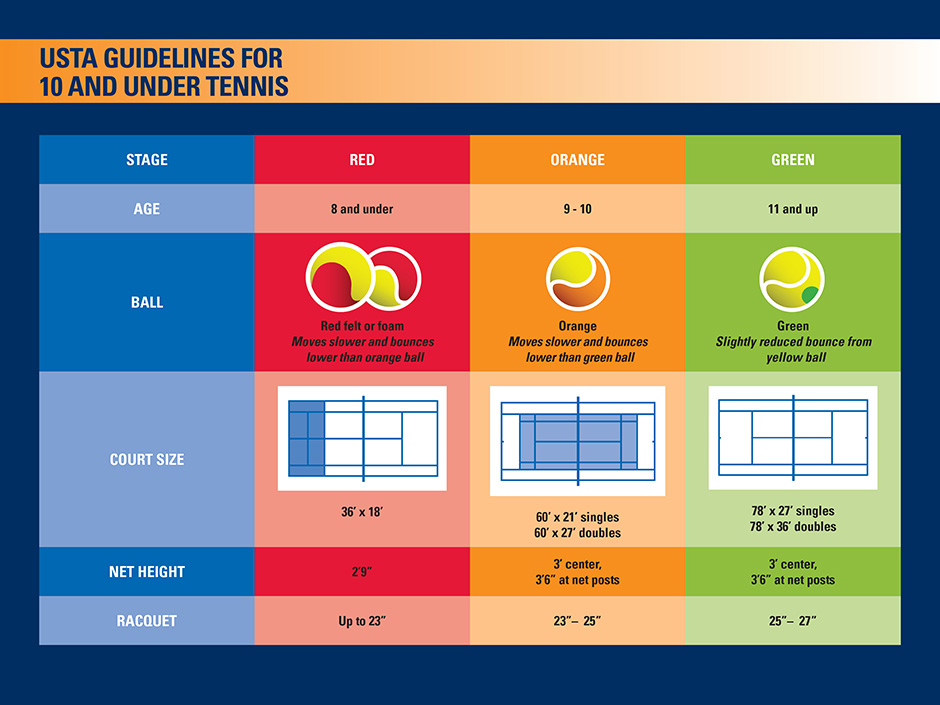 Resources for Beginner Players
Does your child want to learn tennis "vocabulary", how to keep score, or proper court etiquette? Do you wonder what is the best way to instruct a new, young player? Do you want to learn interesting facts about the game's history? Click the button on the right to access an excellent page of information & resources!
10U Support / Volunteers
Parent and volunteer support is important at all levels of play, but it's particularly important for our youngest players. Parents serve as Coaches / Managers for team matches. Parents organize a snack schedule & an end-of-season team party. Parents can also serve as Court Monitors, but first, they need to complete the USTA Safe Play screening process, which involves viewing a 90 – minute video, acknowleding Safe Play policies, and submitting a background screening.
Volunteer Court Monitors
Each week during the season, (8) volunteers are needed to help our 10U players as they learn to play matches. High School tennis players make great court monitors, and can earn service hours. Adults can also be court monitors, but need to complete their Safe Play certification first. High School students DO NOT need Safe Play certification. The 10U players have their matches on Saturday mornings from 9:00-10:30 at Jetton Park. Click the button below to sign up as a Court Monitor Volunteer.
Open Position - Amy Brandon (interim)
USTA Junior League Coordinator
For questions about Junior tennis, please email: