Scholarships & Awards
Lake Norman Tennis Association
LNTA Serves College Awards
Once again, LNTA is pleased to announce the opportunity for Lake Norman area tennis-playing seniors to apply for one of  three (3) $1,000 scholarships. Two of these awards will be presented by LNTA, with the third award presented on behalf of the Mark Friday Memorial Scholarship. High school seniors are invited to apply. The deadline to apply each year is April 30th.
The seniors selected for these awards could be playing on a school team, in tournaments or USTA Junior Team Tennis. LNTA is not seeking the best tennis players in the area to receive these scholarships, but for students who actively participate in competitive tennis and community activities in the Lake Norman area. A scholarship selection committee is formed each year to review the applications and select the recipients. If interested in volunteering to serve on this committee, please contact Amy Brandon at ctc@lnta.org.
LNTA Serves Awards
Each fall, LNTA hosts the Acetoberfest Tournament, a one-day adult doubles event. Proceeds from this tournament are used exclusively to fund the LNTA scholarships. Click here to access the 2018 Serves Awards Application.
Congratulations to the 2017 winners:  Lauren Gish (Lake Norman High School) & Shelby Auvil (East Lincoln High School).  They were selected by a scholarship committee for their academic achievement, as well as their outstanding service to the community. Their award pictures appear below & are also on our Facebook page.
Previous LNTA Serves College Awards Recipients
(2017) Lauren Gish & Shelby Auvil                                  (2014) Ryan Wydra & Elizabeth Chen
(2016) Sean Wydra & Gabby Moore                               (2013) Ashley Kohler & Justin Elliott
(2015) Lily Aldrich & Elizabeth Farley                              (2012) Morgan Marin & Rigney Marcela
Mark Friday Memorial Scholarship
This scholarship was established in 2016 by Mark's USTA teammates. Like the LNTA Serves scholarship, this $1,000 award will be designated to a Lake Norman area high school senior who meets the same criteria described above. The 2018 submission date has not yet been determined.

2017 Mark Friday Award Recipient
Sydney Zarsadias (pictured with Lathan, Nancy & Isaac Friday below)

NC Tennis Awards
Each year, the N.C. Tennis Association honors young men & women who have done an outstanding job on & off the court to promote our great sport. Annual awards for high school players include:
High School Player of the Year
Junior Tennis Sportsmanship Award
Junior Tennis Player of the Year Award
For additional information and nomination forms, visit USTA North Carolina Annual Awards.
USTA Scholarship Opportunities
USTA Serves awards scholarships annually to deserving youth who have participated in United States Tennis Association (USTA) and / or other organized youth tennis programs. For more information, visit the USTA Serves College Scholarship Program website. The 2018 submission date has not yet been determined.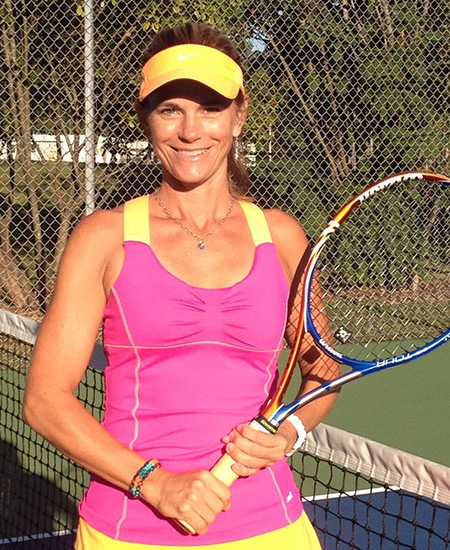 Amy Brandon
Community Tennis Coordinator
If you have any questions, please contact Amy at ctc@lnta.org