Scholarships & Awards
Lake Norman Tennis Association
LNTA Serves College Awards
Each year, LNTA provides the opportunity for Lake Norman area tennis-playing seniors to apply for one of two $1,000 scholarships. High school seniors are invited to apply and the application deadline is annually on April 30th.
The seniors selected for these awards could be playing on a school team, in tournaments or USTA Junior Team Tennis. LNTA is not seeking the best tennis players in the area to receive these scholarships, but for students who actively participate in competitive tennis and community activities in the Lake Norman area. A scholarship selection committee is formed each year to review the applications and select the recipients. If you're interested in volunteering to serve on this committee, please contact Amy Brandon at director@lnta.org.
LNTA Serves College Awards Application (Student)
LNTA Serves College Awards Recommendation (Tennis Coach)
LNTA Serves College Awards Recommendation (Faculty Member)
LNTA Serves College Awards Recommendation (Non-Related Applicant's Choice)
Please do not hesitate to reach out to scholarship@lnta.org for questions.
William Cockerham and Andrew Simmel Honored with 2022 LNTA Scholarships
William Cockerham (North Iredell High School) and Andrew Simmel (Hough High School) were selected by the LNTA Scholarship Committee based on their academic achievement, service to the community, and participation in tennis programs. Each will receive a $1,000 college award.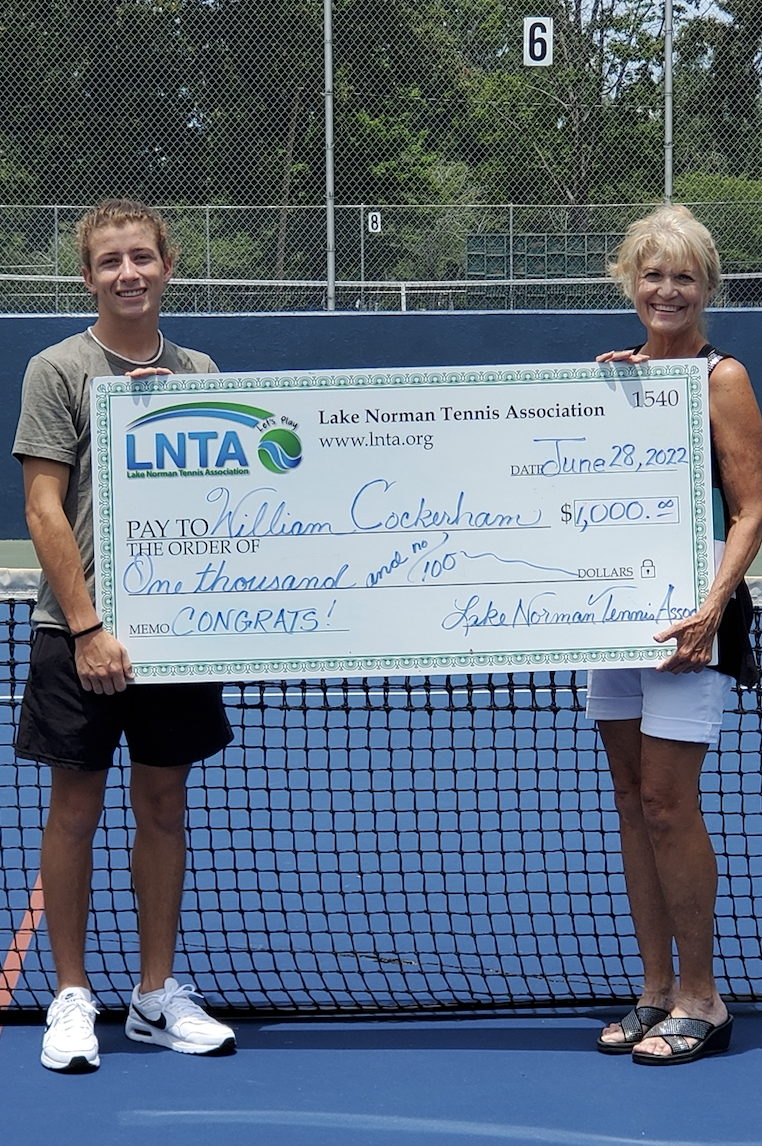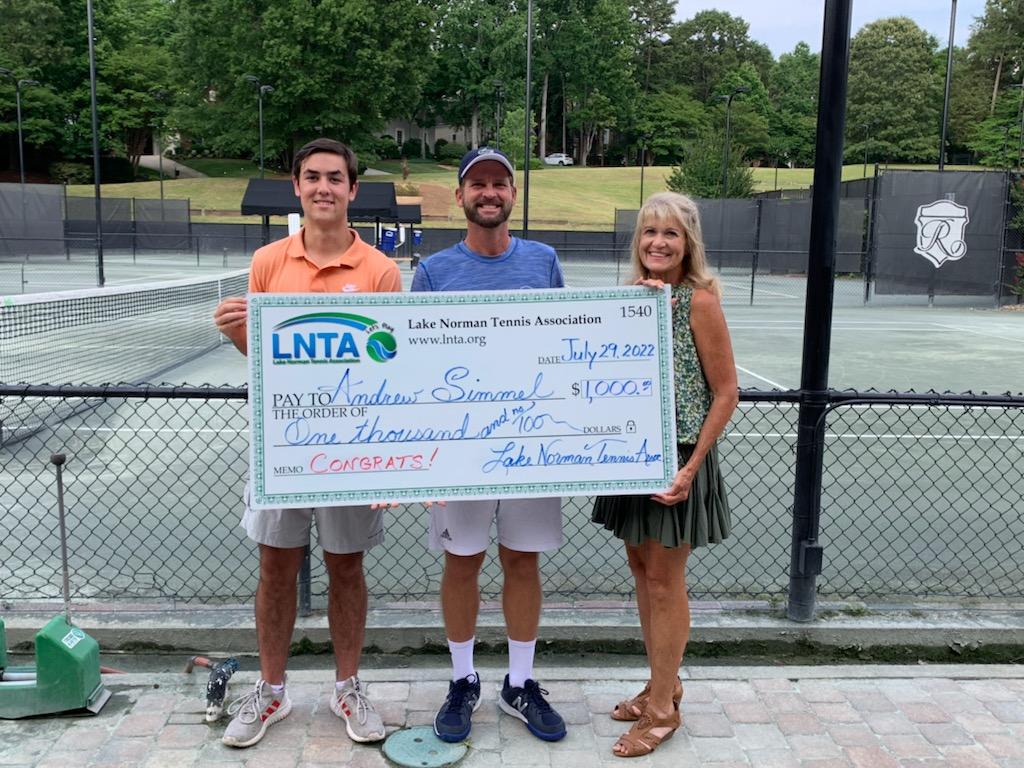 Previous LNTA Serves College Awards Recipients
2021 – Ashley Titus & Sydney Williams
2020 – Cate Richardson & Emily Ramanata
2019 – Grace Krohn & James Last
2018 – Aleya Last & Grant Swicegood
2017 – Lauren Gish & Shelby Auvil
2016 – Sean Wydra & Gabby Moore
2015 – Lily Aldrich & Elizabeth Farley
2014 – Ryan Wydra & Elizabeth Chen
2013 – Ashley Kohler & Justin Elliott
2012 –  Morgan Marin & Rigney Marcela
Mark and Isaac Friday Memorial Scholarship
The Mark and Isaac Friday Memorial Scholarship was established in 2017 and is in memory of Mark Friday and his son Isaac.  The Mark and Isaac Friday Memorial Scholarship Foundation was established by Mark's family, friends and USTA teammates. This $1,000 scholarship will be awarded to a Lake Norman area high school senior by the Mark and Isaac Friday Memorial Scholarship Foundation, a 501(c)(3) foundation. For questions about the Mark Friday Scholarship please contact Scott Reynolds.
It is the Foundation's expectation that a recipient's $1,000 scholarship will be renewed for four years as long as scholarship recipients maintain an acceptable GPA and are making progress toward a degree.
The 2020 scholarship was awarded to Jana Whicker (pictured below).
North Carolina Tennis Foundation Grants & Scholarships
The North Carolina Tennis Foundation is proud to support high school tennis by offering the following grant and scholarship opportunities.
Emily H. Preyer Family College Scholarship – This $2,500 scholarship will be awarded to one NC Male High School Senior and one NC Female High School Senior. *Deadline – May 1.
High School Team Grant – This grant provides support to high school tennis teams in North Carolina. Funds from this grant can be used for equipment, supplies, facility projects, and more. Please fill out all parts of the application and be as detailed as possible with your proposal.
NC Tennis Awards
Each year, the N.C. Tennis Association honors young men & women who have done an outstanding job on & off the court to promote our great sport. Annual awards for high school players include:
High School Player of the Year
Junior Tennis Sportsmanship Award
Junior Tennis Player of the Year Award
USTA Scholarship Opportunities
USTA Serves awards scholarships annually to deserving youth who have participated in United States Tennis Association (USTA) and / or other organized youth tennis programs.